Battlezone 64 Screens
Both the gun tower and walker look the same as in Battlezone 1, except for the funky lighting.
Otherwise the images are quite good for the Nintendo 64.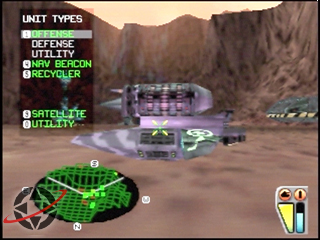 NEW BATTLEZONE 64 UNITS
Airstrikers attack from the air with missiles, they must return to thier mobile launch pad for reloading, so if the pad is destroyed, the airstriker is useless. The Striker picks its targets automatically, and fires upon its target until its ammo runs out. It flies in space and dives down quickly as it fires on its target.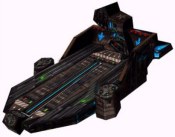 Mobile repair unit, must unpack before becoming usable, it has no defenses and is vunerable.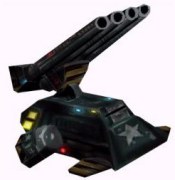 This flak and chaff launcher fires into the air as a defensive measure to protect your base and other units. The battery only moves vertically so the launcher has to turn using the swivel jets. It is particularly useful against air strikers.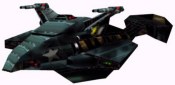 Huge, slow moving machine with heavy armor. It is not very manuevarable, but can destroy a base in seconds once it is in range. The turrets on each wing swivel, and the flaps at the end of the main wings also move slightly in flight.